Twin Cities Wine Education is proud to present a special night of incredible ports.
Wine Geek Week: Kopke Colheita Port Masterclass
Colheita, which is a style of port best described as "vintage dated tawny" is increasingly rare due to its very nature: these are wines that have quietly sat in barrels in the port lodges for many years, often decades. As time goes on, the 'Angel's share' evaporates and further concentrates the wine, lessening the quantity in the barrel. The in the last ten years there has been an explosion of interest in the style, making for a feeding frenzy. In fact, many port houses are now out of the Colheita business entirely as a result … they simply have no wine.
But not Kopke, one of the premier producers of Colheita ports.
Join us for a special night featuring the wines of Kopke, with gems going way back in time.
We'll start with an overview of the port production process, plus a geography lesson on the Douro Valley. We'll discuss in detail the British involvement in the trade, and the reasoning behind port being stored and finshed in Villa Nova di Gaia, rather than at the vineyards in the Douro Valley.
Then we'll step through a once-in-a-lifetime lineup of Colheita ports from the house of Kopke. This will be a trip back in time, and a special way to taste some of the oldest wines you'll ever experience as a wine lover.
Seating is extremely limited for this event. Hope you can make it!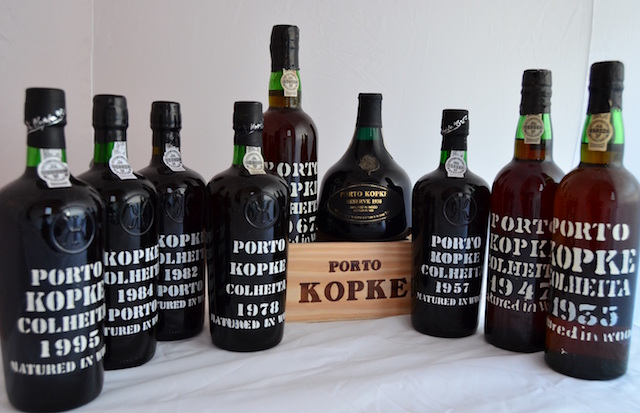 Photo from http://www.theportforum.com/viewtopic.php?t=5942.  Note this photo is not representative of the vintages and bottles that we will be enjoying in class, though we will be enjoying some older and very special vintages indeed.