Wines of the Loire Valley: from Muscadet to Sancerre and everything in between
July 16, 2019 @ 7:00 pm

-

9:00 pm
Twin Cities Wine Education presents a new class on a wonderful old wine region
The Wines of the Loire Valley
From Muscadet to Sancerre and everything in-between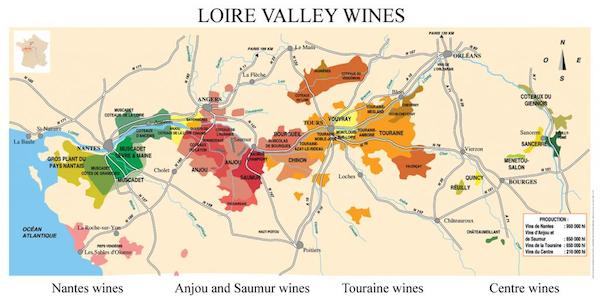 Many of the top wine regions of the world are located on rivers, for rivers cut valleys and valleys produce hillsides, and hillsides present a range of soil types and exposures that tend to work well for grapes meant to be made into wine. The Loire River Valley is one of the most interesting without a doubt.
Nowhere else do you get the range of styles, grape varieties, and dynamic personalities as you do in the Loire Valley. Sparkling Wine? For sure! Great whites and reds? You better believe it. Some of the top Rosé in the world? Check! And what about dessert wines? Wait until you try these.
Muscadet, Anjou, Chinon, Vouvray, Touraine, Mentou-Salon, Pouilly-Fume, Sancerre … we'll cover it all!

The Loire Valley is an amazing topic to cover in detail, and I look forward to pouring for you stunning examples from all the major regions of the Loire. Cabernet Franc, Sauvignon Blanc, Melon de Bourgogne, and many more varieties will be featured. Of course, the class will be accompanied by great maps, insightful articles, and loads of information.
I hope you can join us for this special class.